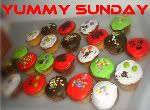 Above are some of the food we ate last Friday in one of the villages here in our place. We held a one-day English Camp for adults especially the leaders of the village. Oh how we love it, it's fun and everyone participated and enjoyed.
After the activities we ate together. They really cook great and delicious food. Although it's spicy but very delicious, I was really craving for more but I need to stop or else I would be having gluttony, lol!
More of Yummy Sunday with
Perfectly Blended
.