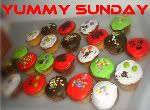 I'm sharing this photo because last time we ate in McDo and we got this burger. It's first time for us to have this kind of burger. We did not even ask because it will take time for us to explain, huhu! Anyway, it's still yummy though it's small.
Boogie has more to share in
Perfectly Blended
. Try to visit her and join. You still have time like me, hehe!