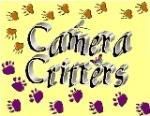 Buffaloes are common animals in Thailand. But we hadn't seen cows here. This kind of animal is exposed on the roads or anywhere where people are passing. But we have seen the Land of Buffaloes in the middle of the lake on time. We were shocked that they stayed there all alone. We saw a lot of them, and a local told us that they need to stay there to survive.
Some male buffaloes were trained to fight with their kind here in the south. The locals loved to see the animals fighting. It's their culture. We had also saw a singing bird contest. Maybe sometime we will try to see this event and let you see some pictures. We're not sure how they rate or give points to the singing birds. But there's always winners. You could see birds anywhere especially near the department store.
Camera Critters
are really enjoyable especially if you love animals. Try to visit and join if you have time.