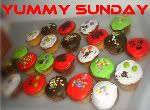 This is another Thai food. You can choose whatever food you like,
they will provide a steam boat in order for you to cook;
the sauce, meat, vegies, fruits, dessert, ice cream and everything
you need for eating is there.
Here in our place it is known as Mokata (eat all you can).
You will really enjoy if you are eating more.